New FWF project approved
At the last FWF Board meeting at the end of June, Julia Derx and Rita Linke were awarded a new project entitled " BACTO-TRANS: Upscaling bacterial overland transport (BOT) - a multiparametric approach".
---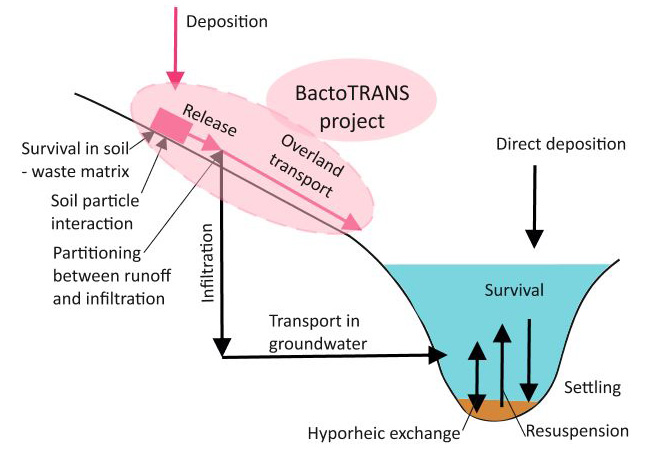 The project aims to develop new bacterial overland transport - BOT models that will enable reliable predictions of where (bacterial) pathogens come from, how they move through the environment, and where they go. The project takes a holistic, quantitative approach to transfer BOT model parameters to large scales. Small-scale precipitation experiments are conducted in the laboratory and larger-scale experiments are conducted using a unique precipitation simulator under real environmental conditions.
The state-of-the-art combination of quantitative, microbiological, and molecular methods and parameters will provide the scientific basis for accurate prediction of BOT, which may be extended to viruses and protozoa in the future.
Accurate quantification of BOT through advanced diagnostics
In addition to fecal indicator bacteria (FIB) analysis by culture- and qPCR-based methods, host-associated microbial source tracking (MST) markers will be analyzed for the first time for BOT models. To test the informative value of FIB and MST markers with respect to pathogen transport and mobility, bacterial reference pathogens of relevance to human health will be quantified by qPCR. Furthermore, the influence of physicochemical, environmental and aging effects on quantitative BOT processes will be determined. The BACTO-TRANS project thus has great potential to revolutionize this field of research.
Further project partners:

Andreas H. Farnleitner, Alfred Paul Blaschke, TU Wien
Regina Sommer, Medizinische Universität Wien
Peter Strauss, Bundesamt für Wasserwirtschaft, Petzenkirchen
Alba Hykollari, Claudia Bieber, Walter Arnold, Veterinärmedizinische Universität Wien
Alexander Faltejsek, Forstverwaltung Lobau
Jack Schijven, Universität Utrecht, Niederlande
---
---